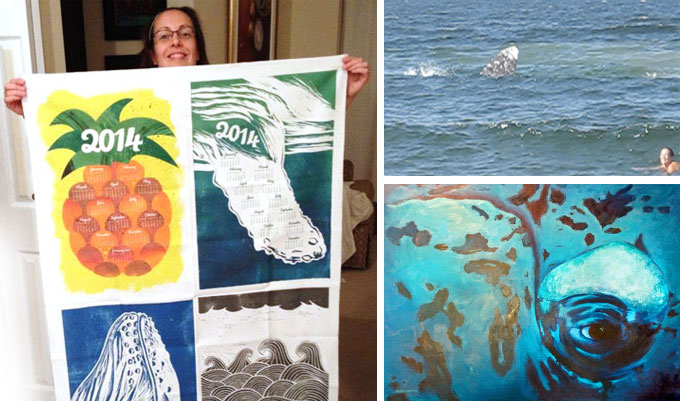 I love to create: paintings, pottery, fabric designs, accessories, linocut prints—the list goes on.
I was introduced to printmaking as a young girl by an aunt who imported etchings to Canada.
She lived part-time in Mexico and connected with some of the most talented Mexican printmakers. Their work was colourful, playful and full of imagery I'd never seen.
I had my first try at printmaking in high school and later studied etching and painting while on a university exchange in Guadalajara, Mexico. After getting a degree in economics I completed a 3-year diploma in graphic design and illustration at Capilano University, with a strong focus on painting.
I grew up on Bowen Island surrounded by nature, and now call Lake Cowichan on Vancouver Island home. I enjoy the outdoors and am inspired by natural encounters. I am thrilled to share my work with you.
Whale Inspirations
While completing my design diploma I spent my summers working as a resort photographer for a remote fishing lodge in Haida Gwaii. It was there that I saw a humpback whale for the first time.
Between 40 and 50 feet in length, the majestic humpback is breathtaking to see in the wild. While in Haida Gwaii I saw more many more humpbacks, and a host of other fanciful sea creatures I'd only read about. I began to have dreams I was swimming with whales.
About five years after my first baleen whale sighting, my dream came true. At a distance of less than ten feet from the shores of English Bay in Vancouver, I swam alongside a grey whale, who raised its pectoral fin at me in what I took to be acknowledgement.
Whales continue to be a source of creative inspiration and from time to time still appear in my dreams.
Here is a short video of my swim with the grey whale in English Bay: